Use Franchise Trade Shows and Exhibitions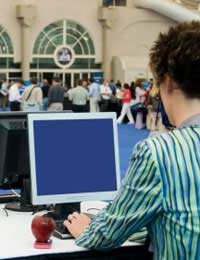 Locating the franchise business you want to start is your first step to self-employment. However, even a quick glance at the Internet reveals thousands of potential franchise opportunities, but which one do you choose? Visiting the many franchise trade show exhibitions that run each your in the UK and overseas can give you a one-stop-shop to find and evaluate a number of franchise businesses before you make your choice.
Exhibitions enable you to meet franchisors and ask them detailed questions about the business they want you to buy into. Often, face-to-face negotiation will reveal some pitfalls within the franchise business you were interested in that were not revealed in the franchisor's literature.
On the Stand
With dozens of exhibits and trade show displays to visit, it's a good idea to plan your approach to the exhibit's owner. Remember you are attending the trade show to look for a new business, so you need to ask the franchisor the right questions. When you approach trade show displays bear the following points in mind:
Outline Your Requirements
Business in the franchise world covers a whole range of goods and services. Try and be as succinct as you can when speaking to the exhibit's owner. You'll then see instantly if their franchise business is a good fit with your needs. If not, move on as you have plenty more to see.
Cost
Often, the cost of opening a new franchise can be buried in the literature you may have already requested. Now is the time to focus on the actual cost of the franchise business on offer. The trade show enables you to the compare costs of a wide-range of franchise businesses under one roof. Look for hidden costs, or unforeseen expenses.
Locations
The trade show displays you visit as part of the exhibition will cover every conceivable franchise business. But use the exhibition to find a franchise business that is available in your area. Quiz the franchisor about the locations they have available, and ask for details of any competitors in your chosen area.
Stand your ground
Some trade show displays are very slick and professional operations. They have honed their sales pitch over many years. It's very easy to become side-tracked and forget your own personal requirements from the franchise business you want to start. Resist the sales pitches of the exhibits staff, and stay focused on asking the questions you want answered.
How to Make the Most of a Trade Show
Trade shows and exhibitions can be daunting to get the most from. But with some pre-planning you can ensure the time you spend on the exhibition floor is well spent. Don't forget, the trade show or exhibition you are attending is there to help you choose the right franchise as your new business. Use the checklist below to help plan your next trade show excursion:
1: Make contact early
As your only have a fixed amount of time at the trade show or exhibition, always try and make contact with the exhibitors you want to talk to before the show. Their diaries fill up very fast, so book your slot early.
2: Pre-plan your attendance
With your diary of meetings and visits to trade show displays complete, you can now plan your visit to the trade show or exhibition. You have meetings booked, but also look at the trade show's program of events as many of these could be useful to attend. Create a complete timetable for your visit.
3: Look after yourself
Visiting trade shows or exhibitions can be gruelling. Ensure you drink plenty of water and take regular breaks. And don't skip lunch in favour of one more meeting. It's important to take a break to stay focused and get the most from the trade show you're attending.
4: Take an empty bag
It may sound odd, but by the end of the trade show's day, you'll be weighed down with brochures and other paraphernalia. Save your energy for the interviews you've book on the trade show displays. A trip back to your car, or putting your collected material in the cloakroom are also good options.
5: Map your route
Some trade shows can be massive spanning several halls. Your booked interviews could be scattered over a wide area. If you didn't get a map of the exhibition in advance, take some time as soon as you arrive to plan your route to each trade show display.
6: Follow up
Trade shows are a great shop window you can use to locate the franchise business you want to start. Draw up a shortlist after the event and then follow-up to gain even more information about the business you want to buy into.
You might also like...