Grants Available for Your Franchise Start Up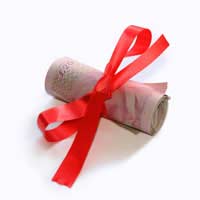 It is estimated that over £125m a year that is available in grant aid that is simply not claimed. Business grants are not the easiest of financial support to obtain for your business, but they are a source you could explore as your franchise's location or unique needs could make it eligible. Funding your franchise with your own personal finance resources may be possible, but grant aid can lessen the personal burden you have to take on in order to start up your business.
The financial news is constantly awash with new start-up finance products, but the finance news mask the often complex application system that puts many business off even applying for the grant aid they may well secure.
Grants are supplied by a wide-range of organisations. These include central and local government. The European Union, charitable organisations and development agencies. It's important to look closely at your business to identify which components of your franchise may be suitable for grant aid.
Grants and Support Directory online is operated by Business Link and enables you to search for over two thousand grants currently available. Two other well-established grant directories are GRANTnet and j4b Grants.
Types of Grant
As with personal finance products, grants tend to be grouped together into sectors that include:
Training
You or anyone your business employs that needs training could attract a grant. Learning Skills Council is a good place to start your search for a suitable grant. The new In Our Hands initiative could also be a source of grant aid.
Innovation and Research and Development
If your franchise business is technology based, you could apply for a grant to carry out R&D. There is a government grant specifically for this purpose. You apply for this grant through your local Regional Development Agency. You can locate yours via their website. If your franchise is based in Scotland, Wales or Northern Ireland you should contact your local government website about the SMART grant scheme.
In addition the EU Framework Programme could be a source of technology related grant funding. Also the EUREKA network could be a source of partners who may invest in your new franchise business.
Employment
As the government is motivated to develop employment opportunities, your business could benefit from grants that are available if you employ a New Deal job seeker. More information is available at your local Jobcentre Plus.
Regional
If your franchise is in a designated area of the UK, your franchise may be suitable for an economic regeneration grant. Your business must be in an assisted area to qualify. You can get more information about this scheme from the BERR website.
Grants Checklist
Locating and applying for a grant can be time consuming exercise. Use the checklist below to ensure you have the best chance of securing the grant you're looking for.
1: Stay informed
If you don't know a grant exists, you can't apply for it. The number of available grants changes almost daily. Try and get into the habit of checking the main small business grant databases to ensure your business applies for any grant that is suitable as soon as it become available.
2: Research your market
Grants come in all shapes and sizes, but you must match the grant to your small business need as many grants have very strict application rules.
3: Don't start your project yet
It a fatal mistake to start a project before you have actually secured the grant for your small business. The financial news pages are filled with businesses that committed resources to a project only to have their grant fall through.
4: Correct paperwork
The grant procedure is very complex with a corresponding amount of paperwork and forms to complete. It is vital that you complete these forms correctly. Take advice where you are not sure as using incorrect information could mean your application is rejected.
5: Apply now!
The grant application procedure can take an incredibly long time complete. Don't delay with submitting your forms and any supporting documentation. The sooner you get your application in the better.
6: Demonstrate your need
Don't forget that your application for any grants is in competition with all the other applications the grant body will receive. It's your job to show that your small business deserves to be awarded the grant. Think about who the grant body is. Ask yourself what they are looking for in the grant applications they receive.
You might also like...
Hi I am a frontline worker buy currently off due to being unwell an disabled. So need to work from home. I have seen so many business franchise opportunities that I would be great at an would love to do. But do not have the money to put down. Would i be eligible for a grant?
Minty
- 25-Apr-21 @ 7:38 PM
I am just 62 and finding it harder to get a job. Ive seen a franchise that would be ideal for me, and would last me for the next 10 years plus ,i dont think i would get a grant and havent got the £25.000 plus vat that they want for the franchise , i may be able to put about £6.000. Towards a lown ,would i have any chance of getting a loan.what do you think.
Simon
- 4-Mar-21 @ 5:17 PM
I am currently working in education but looking to retrain and start a home based travel franchise. Are grants available to help with the initial upfront payment needed?
I am looking for any help and start grants from the government to start my own work from home franchise.
Julian
- 2-Jan-21 @ 12:16 PM
Hi Ian looking into a fire and security franchise the start up cost is £50.000, I have worked and am still working in that industry for the last 5 years , the area iam looking at to open in has no other franchisearound it so the market size would by fairly large, is there any grant aid out there to help, as I have no working capital to invest. Thanks in advance
Kendrick
- 5-Dec-20 @ 5:51 PM
Hi, my friend and I are looking to purchase a franchise where we teach kids to code. The ultimate goal is to turn this into a family center where the whole family can learn to code. We both work in the tech industry and are looming to put in 25% of the potential 100k to get the center up and running. A grant seems like one of the ways to help minimise bank loans. Are their grant that can help franchises get up off the geound?
Piropiro
- 31-Aug-19 @ 9:16 PM
Hamdia - Your Question:
Hi can you help me please.iam a single mother I been out of work a while. Know I found franchise cleaning business which I'm really interesting. The start up cost is £20,000 can I get help please
---
Our Response:
You are unlikely to be awarded a £20,000 start-up costs if you have previously and still are out of work. The government can help in some instances, please see the link
here
, but not to that extent.
ABusinessFranchise
- 4-Sep-18 @ 10:19 AM
Hi can you help me please.iam a single mother I been out of work a while. Know I found franchise cleaning business which I'm really interesting. The start up cost is £20,000 can I get help please
Hamdia
- 30-Aug-18 @ 7:14 PM
Hello I would really like to get into a franchise food is my expertise,i would like some more information if possible
Micky
- 14-Jul-18 @ 5:22 PM
@jimmy - free money from the government. You'll be lucky. I don't imagine they are handing much out at the moment. The clue is in the word; 'conservative'.
MitcJ
- 12-Jul-18 @ 3:44 PM
Hi there, I have no money but like the idea of getting free money from the government. I don't really know which franchise I would like, maybe a Mcdonald's? If I could get some free money to help me with this that would be cool. Thanks
jimmy
- 11-Jul-18 @ 2:02 PM
@Gee - it's highly unlikely. You may be able to get New Enterprise Allowance help, but not as a lump sum.
Hi. I am currently receive benefits in Scotland and have been offered a property selling/Lettings Franchise for 5 years at a cost of £2400 .Can I get any assistance with this?
Hi, I'm interested in purchasing into a well known pest control franchise, I have a little amount in savings (not quite enough for the amount needed for a deposit!) Was wondering what grants/help would be available for myself?
derobr
- 13-Aug-17 @ 10:16 AM
Hello I am a 46 year old white female. I have worked in the criminal justice/addictions field for the past 12 years. I am now working as an Executive Assistant for a pest control company and I am interested in buying into one of our franchisees. I do not have the money up front and I am looking for a grant to help me get started. Is this possible and how do I go about doing this? Thanks!
Sherry Berry
- 14-Feb-17 @ 9:47 PM
I have a great Franchise opportunity! I have 3 existing territories with good profits and turnover to purchase. If interested let me know. Finance is a hard when starting your own business. The franchise is a good and safe way to go. If it is a proven model. With support you can prosper and banks support franchise companies.
Cazzy
- 21-Jan-17 @ 7:35 PM
Hi, can you help me please. I've been out of work for quite a while now. I'm 49. And it gets harder older I get. To find work.I looked at a franchise,I could and would love to do. Can I get a free grant to purchase it. It's just under. 20.000.
Wattsy
- 12-Sep-16 @ 7:13 PM
Hi, I would like to know about how I can get a grant. Regards
nags
- 22-Mar-16 @ 1:36 PM
I am a 58yr old man who having suffered a heart attack just over 3 months ago decided to resign from my employment. Having no formal qualifications ( although my previous job was very well paid ) I would be interested in taking up a franchise business opportunity. prior to my last employment I was self employed for a number of years and am most certainly not afraid of hard work. Would you be aware of any government grants or assistance that may be available to me, I live in the South East of England.
determined
- 21-Feb-16 @ 6:40 PM
hello sir i m intrested this frainchise project plz advised to me
bablu
- 4-Sep-13 @ 7:02 PM
hi, I have recently started with a franchise. It is 2500 to 4000 per year cost. I am facing some problem in managing expenses in the begining. can you help in such situtation. regards, Khan
Khan
- 17-Jan-13 @ 12:14 AM