Limited or Unincorporated: Which is Right for Me?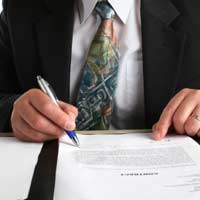 Deciding on a legal structure is one of the most important tasks facing any business owner. It is a decision that will have a lasting and significant impact on the way in which your business is run.
Most franchises are operated either as limited companies or by sole traders. It is important that you understand the differences between these two legal structures, and that you think carefully about the implications before making a decision.
What is a limited company?
A limited company is a legal formation that limits the liability of its directors. It is treated as a separate entity from those directors, and this means that they are insulated from certain risks.
There are several major benefits associated with using a limited company structure. Primarily, it means that your exposure (that is, the amount of money you could lose) is limited to your own personal investment. You will not be held liable for debts that are run up in the company's name if it turns out that the company cannot pay them.
Additionally, limited company structures can provide you with new ways to raise funds. You can sell equity (or shares) in your company, in exchange for cash. This is a common and often effective way of raising investment.
Is it expensive?
In the UK, limited companies are incorporated by Companies House. Registering a company is relatively straightforward, and if you do it directly through Companies House it will not cost you more than £20.
Most people, however, choose to use a third party agent to incorporate their company on their behalf. This third party will draw up the relevant documents and file them with Companies House. The cost of such a service varies depending on the company, and on any extras that you choose to add. But it is perfectly possible to incorporate a company through a third party for less than £50.
Why would I remain unincorporated?
Of course, you are not obliged to register your franchise as a limited company. Instead, you might choose to remain unincorporated.
Many people operate as 'sole traders'. Again, there are significant advantages associated with this course of action. Primarily, you have significantly more freedom as a sole trader. You can carry on business in whatever way you see fit (provided it is within the law), and you don't have to answer to any other directors or shareholders. In addition, you keep any profits you make and they are simply treated as income.
It is important to remember, though, that operating as a sole trader also has some important drawbacks. You will be personally liable for the actions of your business – because your business is not treated as a separate legal entity. This means, amongst other things, that you will be liable for debts if you cannot pay them back.
It is not uncommon for franchisors to demand that their franchisees set up limited companies before investing. You should therefore speak to your potential franchisor, as well as an accountant and a lawyer, before making a decision.
You might also like...
Hi, Just curious, what should I use for my business startup? I just want to try myself in selling something online, I'll probably start from small things. Shall I use Ltd or unincorporated? Could you please give me a clue Thank you
Alek
- 26-Oct-20 @ 4:47 PM