How to Motivate your Staff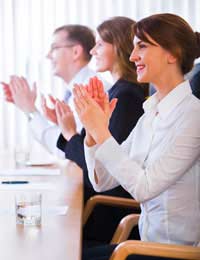 The staff that you have working within your franchise business are one of its most important assets. As such it is vitally important to ensure they are always working at their optimum efficiency. Motivation in the workplace should not be underestimated as well motivated staff are also highly productive staff. There are many ways in which you can motivate your staff and not all techniques will suit each business, but it is important to monitor the morale within your business to spot when the motivation of your staff is being effected.
High levels of motivation in your business can bring about real change and offer increases in overall profitability you can actually see on your balance sheet. A well motivated staff can:
Help your business to be competitive in its market sector
Offer high levels of customer service
Drive down costs as savings can be identified and made across your business
Create a working environment that promotes high levels of productivity
Help you develop a business that high calibre people actively want to work for
Leading by Example
As the owner/manager of your franchise business, it falls to you when it comes to motivation in your workplace. You can't expect your staff to work hard and stay focused on their duties if you don't show that you are also motivated to make your business as successful and profitable as it can be.
Becoming a good leader and manager that ultimately motivates your staff to work efficiently within your business is not a skill that everyone is born with. Luckily, you can learn good management and leadership skills. The National Occupational Standard website contains more information about how to develop your leadership skills. You can also identify a course you can take at your local e-skills centre and as part of the Investors in People scheme that is currently running. Or you can call the Investors in People Information Line on: 020 7467 1946.
Motivation Systems
Motivating your staff via good leadership can also be aided with several motivation systems that have been developed over the years. If chosen carefully and installed into your business in a responsible way, they can be a major motivational tool. Often, a simple pay rise or more time off work does not motivate your staff as they are looking for different methods of support and interest you and your business should give them. Motivation systems you can use include:
Performance related bonus payments
Share options
Commission on sales
Gifts
Awards
Additional holiday
Adventure days
Health benefits
It is important to relate the motivation program you want to install in your business to your staff. Today, monetary incentives and motivation systems are not as popular as they once were. Many business owners now offer more lifestyle incentives such as adventure days or time in luxury hotels in the UK or overseas. Note that financial incentives may have a tax implication your business must consider. Consult your financial advisers before moving forward with any monetary based scheme.
Motivation System Checklist
It is important to ensure you implement any motivation scheme properly and with the full support of your staff. Use the checklist below to ensure your motivation system is a success:
Always consult your staff
Many businesses install an incentive scheme that is completely inappropriate for their business. Always understand what kind of incentives your staff want to maximise the motivational effect.
Identify your schemes objectives
Ask yourself what you want benefits your motivation scheme to actually deliver to your business. Try and develop a metric so you can see how effective the scheme is and if it has delivered a good return on your investment
Money talks?
Financial incentives are usually the first type of motivation system a business will think of using. However, gift based schemes can also be high effective. Again, ask your staff what kind of schemes they are interested in.
Test your scheme
Before you roll out your chosen scheme to your entire business do a test run with a select number of staff. You can then see if the scheme will give the benefits your business needs and if your staff actually become more motivated as a result of using the system.
Review your scheme
Motivation schemes are not an install and forget way of bringing incentives to your business. To ensure that the benefits your business begins to reap when the scheme is first installed continue, you must regularly review your system and make any changes necessary.
You might also like...
Your article is powerful and helpful thus holds a place in a every library. I have also mentioned variety of importance in blogs on my site from where you will get more motivation to continue such awesome work further, so do visit our website. Thanks.
Pankaj Rai
- 12-Aug-20 @ 12:06 PM