Training for your Staff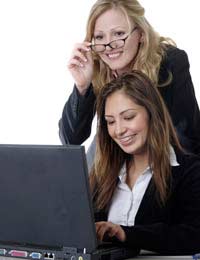 As a business asset your staff should have their skills periodically updated with training. Expanding their knowledge and practical skill set can mean you can avoid recruiting new staff that have the specific skills your business needs. This can mean a huge cost saving to your enterprise.
Developing a staff training program can help your business to retain the staff it already has as training can offer a major boost to morale within your company. Staff that can see you want to invest time and money in their skills will be loyal and increase their working efficiency.
Your Skills Audit
Recruiting staff with a key skills that you can then expand on with additional training is a good method devising a structured training program for your franchise business. Before you can start to develop a training program for your staff you first need to identify the skills that they are missing. It is never a good idea to impose any training regime onto your staff as this could lead to resentment. Involving your staff in the training program from day one is a great motivational tool that should not be under estimated.
People Power
Staff training can take many forms. It is important to identify the best way that the training you want your staff to undertake should be delivered. You have a number of options that include:
Online Training
The Internet is now one of the main ways that business owners organise training for their staff. The range of online training modules that is available can be staggering. Consult a training adviser to ensure you buy the right course for your staff and business.
Off-site Training
Many of the practical skills that you will want your staff to learn will mean they have to attend a training centre. Carefully consider the costs of your staff being away from your business. Can your company still operate efficiently while they are absent?
After Hours Training
The night school system has evolved in the UK to the point where any subject can be learned at the thousands of schools and colleges around the country. As your staff will be using their own time it is important to involve them in the training process. This will ensure they are happy to use their own time to gain the skills you would like them to learn.
Government Funded Training
The Government is committed to developing a highly trained workforce in the UK. As such schemes like Train to Gain and the apprenticeship system have had massive amounts of investment put into them. Consult your local training agency for help and advice regarding the courses that are Government backed. The Learn Direct and the Learning and Skills Council websites have detailed information about the training opportunities your business can use.
Investing in People
The training that you want your staff to undertake can now be structured with a scheme called the Investors in People Standard. The aim of the system is to offer targeted training to improve the overall performance of a business. More information is available on the Investors in People website. The Investors in People platform is based on three principles:
Plan
The planning stage of the training system is designed to help your business identify and then develop a training program for your staff.
Do
After you have completed your training plan you can now look at how to actually deliver this to your staff. The implementation of training is one of the most crucial factors to ensure your staff actually learn the skills the training is offering them.
Review
The training that you are organising for your staff must be tested to see if it actually delivered on your expectations. Training without some form of evaluation is useless as your business can't see how effective the new skills have improved the overall performance of your business.
Training Initiatives
When you are recruiting staff for your franchise business, having a structured training program can be a huge attraction to staff. In addition learning new skills that will enable them to move up in your business and improve their pay and conditions is a great motivating factor that you should be aware of. Training should be ongoing and part of your business's overall plan for future development.
You might also like...