How to Recruit the Right People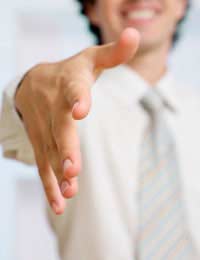 Many people that start their own businesses make the mistake of trying to do everything themselves. It's likely that you will have to recruit staff to help you run your franchise business. Staffing a new enterprise with the right people is a crucially important element of your business to get right. recruiting the right human resources for a business has long proved to be a contributing factor to an enterprises overall success.
The job and career that you have to offer in your business will be largely defined by the franchise you want to run. It should become clear very early in your business planning, not only how many people you need to recruit, but what skills these members of your staff will need to possess. Staffing your business with the right people is important. Too few and your business won't run efficiently, but too many employees can be a drain on your business's resources.
Human Resources
It is important to plan the recruitment process you will have to go through in as much detail as you can. The people you will ultimately give a job to could be a long-term investment for your business. Paying their salary and other expenses as you become an employer is a major commitment of your business's resources. As you plan your recruitment process, ask yourself these key questions:
Does your job have a clearly defined career path?
It is important to define the post you have so you can write an effective recruitment ad, or brief your local Jobcentre Plus and any recruiters you are using. This also helps you create the job's description that prospective employees will use to find your vacancy.
Is the level of pay and benefits attractive?
As an employer you have to balance the costs of recruiting an employee and the return you will get. Look at other similar jobs to guide you to the expected salary level and benefits package prospective recruits will expect.
Full or Part-Time?
Think about the duties your staff will have to perform and when. It may be more cost effective to recruit a number of part-time staff than fewer full-time employees. Today there is a trend to more part-time working, so you may discover that you have a good pool of potential people to recruit from.
The recruiting process
Today you have a number of options when you actually begin to look for staff to recruit. The recruiting process moves through a number of stages that are outlined below:
1: Job Description
Before you can start the recruiting process you need to write a clear and comprehensive job description. This will enable you to understand the key components of the job you are offering, but potential staff members can see if the job is right for them.
2: Advertising and Recruitment
You now have a number of options to advertise your vacancy. You can place ads in your local press. You could also place ads in any trade magazines or newsletters that link to your industry if you need people with specialist skills. You can also use your local Jobcentre Plus and also hire recruiters to help you locate the right person for your job.
3: Application and Shortlist
The traditional method of creating a shortlist is to send application forms to anyone that is interested in the job you have available. You can download blank job application forms to use from website like SimplyDocs [www.simply-docs.co.uk]. Look closely at the application forms you receive and draw up your shortlist. You can also at this stage request applicants to also send their CV.
4: Interview and Assessment
Many new business owner/managers have little interviewing experience, so it's a good idea to brush up your own skills. Your local business link or enterprise agency can help you locate a good course to take. It's important that you handle the interview process properly so that it is fair and complies with the current discrimination laws. This includes whether the candidate has any special access needs you need to cater for.
Employment Law
As a new employer you have to comply with a number of regulations and employment legislation. It's a good idea to download the leaflet 'Thinking of employing someone?' that is available on the HMRC website: http://www.hmrc.gov.uk Also, if you have specific questions about becoming an employer you can call the HMRC New Employer Helpline on: 0845 60 70 143. ACAS also have a handy guide for first time employers you can download from their website: www.acas.org.uk.
You might also like...