How to Develop Good Interviewing Skills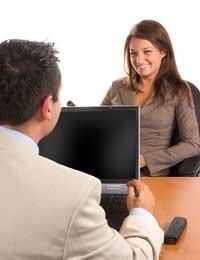 The interview has remained at the heart of business recruiting for decades. Every employer understands that only so much information can be gained from an application form. As an employer you must have excellent interviewing skills as it's your judgement that will ultimately decide which candidate has excelled at their interview and would be ideal as a new employee.
Unfortunately not every business owner has good interviewing skills they can draw on. For many owner/managers the interview process as an employer is completely alien to them. However, this doesn't mean that you can't learn the skills you need to become a good interviewer.
Skills Boost
Part of managing your business is learning how to be a better interviewer. Some owner/managers already have the skills they need. However, if you feel yours could be better contact your local Chamber of Commerce or Enterprise Agency as they may already run courses to improve your interview technique or can put you in touch with training centres offering the skills you need.
Testing Employees
With nearly three quarters of larger organisations now using some form of employee testing as part of the interview process, smaller business have now realised they too can use testing within their interviewing process to locate the right people for their vacancies. It is important to remember that psychometric testing in particular must be approached with care and attention to ensure the tests are administered correctly. Testing can be a component of your interview technique, but testing is not an end in itself. Never base the offer of a job on just the results of a test. Interviewing the candidate is still very important.
Interview by Phone
The phone interview is not the ideal way to recruit a new employee, but you may find that your time will not allow a formal meeting with the shortlisted candidates for the vacancy in your business. As you can't see the person you are interviewing you can't see their body language or their appearance - two of the most useful interviewing components. This doesn't mean you should avoid telephone interviews at all costs.
Go through the same questions you would have asked in a face-to-face interview and listen closely to the responses you receive. The tone and speed of the answers can be assessed. Don't forget to make any notes to remind yourself of the conversation especially if you are conducting several telephone interviews in one day.
Interviewing Skills Checklist
To become a better interviewer you need to develop a number of key skills that include:
Planning and preparation
Being prepared is the key to good interview technique. If you are prepared you can conduct an interview professionally and therefore locate the ideal candidate for your vacancy.
Job description
The interview you are going to conduct is to fill a vacancy. Understanding the requirements of the post will enable you to ask the right questions and also get an insight into the type of person you are looking for.
Be flexible
It is very easy to approach an interview situation with a very focused idea of the person you are looking for. Good interviewers maintain a clear understanding of the job on offer, but are flexible enough to consider candidates that may present unusual skills or experience.
Formal yet felaxed
The best interviews are conducted in a relaxed atmosphere where everyone in the room is at ease. Think about your own reactions in an interview situation. If you are nervous, learn relaxation techniques. If you are nervous, so will the candidate. This doesn't enable either of you to proceed with the interview efficiently.
The open question expert
Your interview technique should include the skill of always asking an open question. Interviews are a process of discovery. If you encourage your interviewee to talk about their background, interests and skills, these open questions will lead you to a firm decision whether the person is suitable to work in your business.
Interviewing complete strangers isn't usually a skill that comes naturally to most people. As a business owner recruiting the right people to help you run your business profitably is crucially important. Spending the time and some of your business's resources on developing your interview technique is time and money well spent.
You might also like...