Operate a Franchise from Home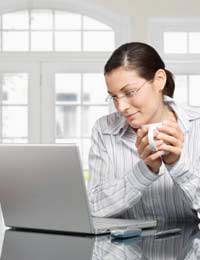 Many of the small business start ups that appear each year including new franchises are run from home. The economics of living and working in the same place make the home an ideal base for your new franchise business.
Working from home has a number of advantages:
You don't have to rent expensive office space
Your daily commute to your office is cut to seconds
The home office you design will suite your exact needs
Working from home also has a number of disadvantages:
You can feel isolated from the rest of the working population
The line between your small business life and home life can become blurred
Your domestic life can interrupt your business day
With more people working from home than ever, turning your home into a workplace requires planning and an understanding of the pros and cons of mixing your home life with your working life. Working form home isn't for everyone, but it can be a real alternative to serviced office space.
Working From Home
Before you start to operate your franchise business from your home, there a number of things you ought to check. These include:
If your mortgage lender or landlord object to you running a business from your home
Whether your local authority will charge you business rates
Perform a health and safety check on the space you will be using as an office
Check with your insurance broker if your buildings and contents is covered if you operate a business from your home
Home Office Design
It is important that you properly plan and design your home office. If you can, try and have a completely separate room for your office. You can then create a space that is an ideal working environment with appropriate furniture and equipment.
Also, having a separate room enables you to segregate your work from the rest of the house. Family members will know that when your door is shut you should not be disturbed. This is useful if you have children.
As you will be spending many hours in your home office it's important that it is correctly designed. It's no joke that what are called MSD's (Musculoskeletal Disorders) can have a major impact on your business if you become the victim. The most common form of MSD is RSI or repetitive strain injury that some touch typists get. Using a computer for long periods of time, at a desk that is too small, sat on a chair that doesn't offer the correct support could result in some serious injuries if you are not aware of the health considerations when designing a new office. Follow these steps to design a healthy office:
1: Try and avoid the so called 'computer furniture' as this is usually far too small to safely accommodate a computer. Try and buy as larger a desk as you can. Home office furniture suppliers have a massive range to choose from.
2: The next most important component of your home office furniture is your chair. This should offer complete support in the lumbar (lower) region of your back. This will enable you to sit at your desk without getting neck ache or lower back ache. Cheap office chairs are to be avoided as they can do more harm than good. Try and spend as much as you can afford on a good ergonomically designed chair.
3: Place your desk either directly in front of a window or at right angles to it. Try and avoid screen glare as this can give you eye strain. Invest in window blinds so you can regulate the amount of light coming into your office.
4: Have a clear route to your office doorway. Don't block this with cupboards or other forms of storage, and don't trail wires or power cables across the floor as they could be a tripping hazard.
5: Using a computer for hours at a time can be a health hazard. If you can buy a large flat panel monitor, a good quality keyboard and an ergonomically designed mouse. These components are how you interact with your computer. Spending some time evaluating these devices will pay dividends later, as you will be able to work for longer periods of time as you develop your franchise business.
Running your franchise business from home can be an ideal way of not only reducing your costs, but also moving into self-employment away from a traditional office environment with all the stresses that this can bring. If you can work from home you'll discover that it is a liberating experience that you and your new business can benefit from.
You might also like...