Negotiate a Business Premises Lease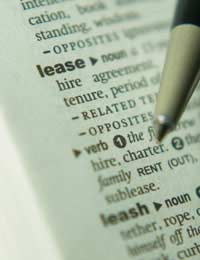 A franchise business can come in all shapes and sizes. It's likely, however, that your franchise will require some premises to operate from. This will mean dealing with landlords and commercial leases that can be highly complex legal documents. It can't be stressed enough that you should get advice from a solicitor that specialises in commercial lease agreements before you sign any documents, even if this is only for a short term lease.
The type of premises you need for your franchise business will also have an impact on the kind of lease agreement you will be offered by the landlord that owns the property. From serviced offices to industrial units, leases are tailor-made for the property they are attached to. It's vitally important to the long-term success of your business franchise that your premises are suitable.
To Let
Buying a property to operate your business from can be a very expensive exercise that few new businesses can afford. Leasing the premises that are needed has a number of advantages that include:
Flexible lease agreements
Capital isn't tied up and can be used elsewhere in your business
Cashflow can be better managed
Maintenance costs of the premises are taken care of by the landlord
Short term leases are available
Lease agreements can sometimes be broken without huge financial penalties
Leasing your business premises also has a number of disadvantages:
Your premises are not an asset you can use within your business
The landlord of your premises could rise your rent
Your landlord could terminate your lease with little notice
Extra charges could be made. For instance the servicing of office space
Locating the right premises for your business can be easier said than done. Commercial agents can be your guide, but you also need to do your homework and get to know the commercial property market in your area. Online directories like BusinessforSale RightBiz [www.rightbiz.co.uk] and Dalton Business [www.daltonsbusiness.com] offer an array of premises that could be ideal for your franchise business.
Lease Agreements
As a legal document the commercial lease agreement is one of the most complex. Landlords have developed their lease agreements to give them a maximum return on their investment. Negotiation is always possible, but you should get expert help before signing any lease agreement. The key parts of a lease agreement you should pay attention to include:
The length of the lease
The cost of your rent
When the rent is to be paid
Who has responsibility for the maintenance of the premises with what exemptions
Dilapidations. This is a payment for wear and tear on the premises when you leave
Break clause if you or your landlord would like to break the lease agreement
Often, a lease will allow for an early exit in the first few years of a lease, but after this time has expired, the tenant is in effect locked into the lease no matter what happens to the business. If your business fails, you are still liable for all the rent and associated costs over the remainder of the tenancy, which could be several years.
Landlords and Tenants
Your business has a relationship and responsibility to your landlord. Remember, though, that the relationship is two way. Landlords may attempt to put themselves in the driving seat when negotiating a new lease, but it's important for your business's future to get the best lease agreement you can. There now exists a leasing code of practice that you can read at: www.leasingbusinesspremises.co.uk. As a tenant you should also be aware that:
Insurance will either be arranged by your landlord, or will fall to you. If your landlord is providing this get copies of the insurance documentation to ensure they are in order and provide adequate cover.
Planning permission will be needed to make any alteration to your business premises. Look out for clauses in your lease agreement that state that you would have to return the premises to their former state when you leave. This could be very expensive.
Registering the property is a requirement for all new leases. The Land Registry will detail your premises. Check that this information is correct.
It is now the law that all landlords have to provide their tenants in England and Wales with an Energy Performance Certificate.
You might also like...