Quiz: Are You Ready to Run a Franchise?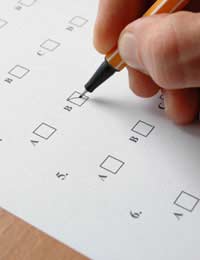 Starting any new business will mean you have complete responsibility for the success and profitability of your enterprise. In the world of franchise businesses you have the added pressure of making enough money to not only pay yourself a wage, but also pay the franchisor their licence fee each year.
Many people would like to start their own business, but often ask themselves if they have the right attitude, personality and skills to become business people and entrepreneurs.
Take the evaluation quiz below to discover if you have the personality to start your own business and make the franchise of your choice a profitable success. Make a note of the letter next to each answer. At the end of the quiz you can assign your response a score and then discover if you have the personality to be a successful entrepreneur. Remember, try and be as honest as you can. This will ensure your an accurate score.
1: What is your attitude to risk?
A. I never take any chances
B. Risk is OK as long as it is based on sound research
C. I'm always careful with money and investments
D. I will take a risk if there is no alternative
2: Do you have knowledge or skills in the industry your franchise is in?
A. I have worked extensively in the industry the franchise is a part of
B. I don't know anything about the industry the franchise is within
C. My hobby and other interests are related to the franchise
D. I am prepared to gain the knowledge and skills I need to operate the franchise
3: Are you a self-starter and not afraid of hard work?
A. I never wait for other people to tell me what to do
B. I will work at a problem until I find a solution
C. If I can't do the job I usually give up
D. Often I will avoid work in favour of leisure pursuits
4: Can you learn new skills quickly?
A. I find it difficult to gain new knowledge and skills
B. Every day is a new challenge for me. I like to learn something new
C. I can think on my feet and identify information I need to obtain
D. I liked my time at school and university
5: Would you be able to fire someone if you had to?
A. No problem!
B. It would be difficult for me to let someone go
C. I would look for a way to talk myself out of firing someone
D. I would ensure I hired the right person in the first place
6: What is your attitude to money?
A. I like to earn as much money as I can
B. I don't gamble regularly, but I like to make the occasional bet
C. I always live within my means
D. I will risk my money only after thoroughly researching the risks involved
7: Do you think you are a good communicator?
A. People often ask me to explain complex systems
B. I often have to repeat myself
C. It is easy for me to give instructions
D. Sometimes I don't explain my meaning clearly
8: Do you react well under pressure?
A. I easily panic when put under pressure
B. In any situation I will always calmly use my common sense
C. The more pressure there is, the better I perform
D. I will always try and avoid high pressure situations
Your Score
Q 1: A0, B3, C2, D1
Q 2: A3, B0, C2, D1
Q 3: A3, B2, C0, D0
Q 4: A0, B3, C2, D2
Q 5: A3, B0, C1, D2
Q 6: A3, B2, C2, D3
Q 7: A3, B0, C2, D1
Q 8: A0, B2, C3, D1
Your Rating
0-6: With this score you are the type of person that likes the idea of working for themselves, but doesn't have the drive, attitude or skill set that will ensure the franchise business is a success. It is very easy to see self-employment through rose-tinted spectacles. You don't seem to have the innate entrepreneurial personality that will stand you in good stead when managing your franchise business.
7-15: This score shows that you have some business skills and a keen drive to run your own business. You may not have all the skills or knowledge you need, but you are prepared to gain those skills to ensure your franchise business is profitable. Most people who want to go self-employed fall into this category as they have often been thinking about making this move for some time.
16-24: Clearly you have the right personality and more importantly attitude to business and what it means to be self-employed. Any franchisor would welcome you onboard as you exhibit a keen business mind and an understanding of what it means to be an entrepreneur in today's business environment.
You might also like...