Set Key Objectives for Your Business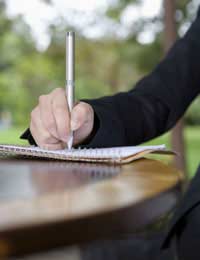 Running your franchise profitably means meeting certain business objectives. The business news online and in print often talks about how enterprises have met or failed to meet their stated objectives.
In business, tracking performance is all important. You set an objective and then later see if you have met its criteria. Many businesses use this method of testing performance to help them improve marketing, sales and employee performance.
As you plan your franchise you'll find that setting objectives as early as possible will give your new business a template to work from.
These objectives can be enshrined in your business plan and can include any number of objectives. However, the main objectives you will most likely want to meet and even surpass include:
Achieving a certain level of sales.
Gaining a number of new customers.
Expanding your franchise's territory.
Making a minimum amount of profit.
Improving your personal finance situation.
There are of course may other objectives you could develop for your particular franchise. Look closely at your particular franchise business and decide what are the key objectives you want to meet. You can then plan every aspect of your new franchise to help you meet those objectives and make your business a success.
Goals and objectives
Often, the business news you read talks about an enterprise achieving its goals and objectives. Objectives and goals are often used interchangeably, when in fact it is more useful to use them as separate items.
Your franchise business may benefit by making the distinction between the two. Goals are often assigned to the wider business and can include a goal to penetrate a new market. Objectives on the other hand are assigned to departments or individuals. This can mean an increase in sales, or improvements in customer services.
Dividing goals and objectives can enable you to plan the development of your franchise in more detail. Breaking your business down into smaller pieces that you can assign goals and objectives to that are detailed in your business plan makes the day-to-day management of your franchise easier.
SMART objectives
Often used in a marketing context, but equally useful to help you set and meet your franchise's key objectives, the SMART (Specific, Measurable, Agreed, Realistic and Time Bound) analysis can be a useful tool to help you clarifying your thinking about how you want your franchise business to develop.
Employee objectives
Many franchises will need staff to operate successfully. Setting objectives for anyone you employ in your business will help you measure how effective they are at their jobs. Usually an objective is set at the beginning of the year, and then a year later an assessment is made when you perform your employee appraisals. It's important to have set an objective with how the performance will be rated. With no system to measure how the employee completed - or not - the objective you can't see if the objective has been achieved.
Marketing objectives
The business news is constantly filled with enterprises that are shouting about their latest marketing activity. SMART, goal and objective setting are all traditionally linked to marketing. How much your personal finance situation improves is directly linked to how well you market your franchise's goods or services. Use your business plan to map out in detail your marketing objectives as they are at the core of your business.
Business objectives checklist
The small business franchise has a finite amount of resources. Setting goals and objectives can be a great way of focusing those resources to deliver what is important to your particular business. Use the checklist below to help you set your key objectives:
1: Plan carefully
All small business should have a business plan. Use this document to help you set objectives for your whole business, and for individuals.
2: Be realistic
It's pointless setting a goal or objective that is simply not achievable within the timeframe you have set, or with the available resources.
3: Focus on individuals
Business wide objectives can be set, but also think about what you, your partners and your employees could realistically achieve on a personal level.
4: Develop objective metrics
Having a set of well defined objectives all need to be supported with a way to measure their performance. Think about how you will test your objectives to see if they delivered what you'd hoped.
Objectives can be used in any kind of small business. They enable you to set yourself a defined goal so you have something to work towards. You'll find that once you have defined how much profit you want to make in your first year for instance, and also defined how you will achieve that goal, you'll be more motivated to deliver the results your objectives demand.
You might also like...