How to Recruit the Right People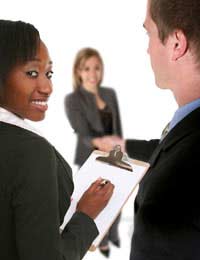 Recruiting employees for your business is crucial for its long term success. The people you have working in your enterprise can be its most precious asset. Good interview techniques and a clear understanding of your staff needs will ensure you match the right people to the vacancies you have available.
Choosing the right staff as an employer is not to be taken lightly. You have a responsibility to your business that includes recruiting the right employees. If you choose the right employee, your business will have a number of advantages including:
Increased Productivity
If you are recruiting several employees, their skill set should be a good match to the duties of the vacancy you have available. These skills will enable your business to thrive in its marketplace.
Employment destination
Creating a business that people want to work within has its advantages when you need to recruit more staff. Your business will become known as an excellent place to work. The practical upshot of this is that the calibre of the people that apply for your vacancies dramatically increases.
Company champions
The brand that your business creates is reinforced every day by the people that have contact with your customers. Having the right people in the right posts enables them to excel at their jobs, which has the knock on effect of dramatically supporting your business's overall brand. The people you are recruiting are your ambassadors every time they send an email or pick up the phone.
Your interview technique
The traditional way that businesses have always chosen their employees is via the interview. After the application form stage you should have a shortlist of potential employees. The interview technique that you use can have a huge impact on how successful you will be as an employer. If you feel your interviewing skills aren't up to scratch, now is the time to gain some training. After all, if you improve your interviewing technique, you will be able to ensure your business always identifies and hires the best people for each and every vacancy.
The Job Outline
Recruiting the right people for your vacancy begins with understanding in detail the post you have on offer. If you have a detailed job description that not only lists the vacancies main duties, but also gives an indication of the qualifications and personality that is need to excel at that job, you will stand a much better chance at locating the staff you need.
Employee Testing
More employers are using testing to not only create a shortlist of potential employees, but also to help them make the final decision about which candidate they should actually offer the post to. Psychometric testing has been used in large corporate organisations for several years, but recently, smaller enterprises have started to use this form of testing as well. The Internet contains many psychometric tests you can simply buy online. However, care must be taken to ensure you use the testing correctly, and also interpret the results to ensure you hire the right person.
Recruiting Agencies
Locating the right person to join the staff of your business can be a time consuming process. Using a recruitment agency can save you that time as they will only put forward candidates they think are suitable for recruiting into your business. With an agency you can avoid the time it takes to generate a shortlist of people you can interview. There is a cost associated with this business service, but if you have specialised requirements for your staff, an agency could be an ideal source of candidates.
The key to recruiting the right people for your business is to clearly understand your needs. Writing a concise yet comprehensive job description will crystallise your thinking and allow you to see clearly the core skills your new employees must have. Brushing up your own interviewing skills can also be a great aid as you will be able to help yourself locate the perfect candidate for every vacancy your business has now and in the future.
You might also like...